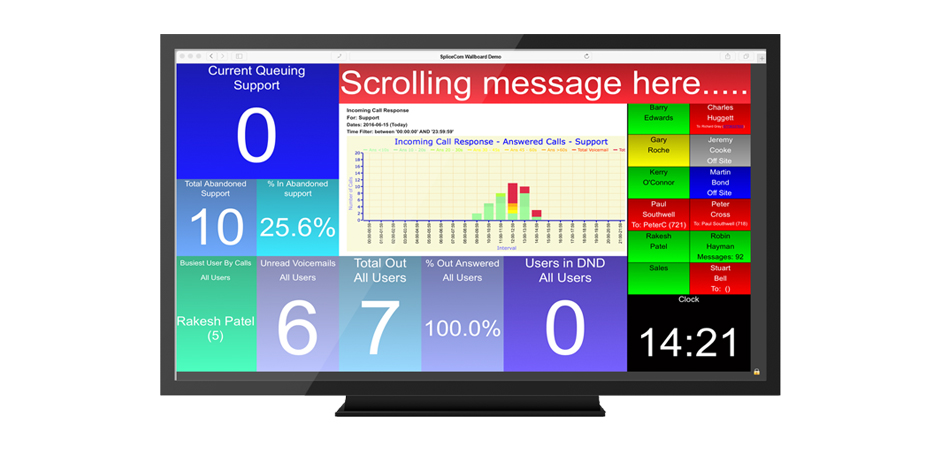 Vision Live provide a wealth of Real Time information for Supervisors, Administrators and Business Managers. Being browser based, Vision Live can be deployed as a wallboard, when displayed on a large Plasma or LCD screen, or as a Call Centre "dashboard" on any PC, smart phone or tablet.
Delivering real time information on your Call Centre performance to those that need it, wherever they are, Vision Live allows potential issues to be identified and resolved before they can impact operations. Vision Live provides the information that enables Call Centres to optimise their resources for maximum productivity, so facilitating a smooth running operation.
Individual Vision Live panels can be added and configured to meet your exact requirements, what ever your Key Performance Indicators might be. In Call Centre mode Vision Live allows you to display panels offering you views of Agent, Calls Queuing and Agents in Queue performance, along side key Statistics and Status information, individual Call Centre (or standard Vision) Reports and Web Pages from your company intranet, external sites or web enabled applications. You choose the layout, position, colour and size of each panel to suit your specific needs.
Offering management definable thresholds for Warnings and Alarms, on individual variables, including the colours used, Vision Live is an ideal tool for alerting you to any dips in service levels. And those using Vision Live as a Call Centre dashboard can access "the information behind the information." By clicking on individual panels they can drill down further, enabling them to react immediately to any abnormal occurrence.
Powerful real-time business management tool
Call Centre module adds 10 Agent tiles and 20 Call Centre Queue tiles to the standard Vision Live bundle.
Business critical information is now available in real-time at the train station, in the boardroom, at your desk or moving through the main Call Centre office
Browser based Wallboard/Dashboard allows management team to monitor real-time performance from a SmartPhone, Tablet, PC or traditional wall mounted screen.
Tiles can be colour coded for thresholds and alarms
Graphs reflecting Queue statistics perfectly complement tile counters for an accurate snap shot of Queue call flows throughout the day.
Downloads
| | | | |
| --- | --- | --- | --- |
| Splicecom SelectVoice Brochure | .PDF | 2.4MB | Download |